The 2019 Nissan Armada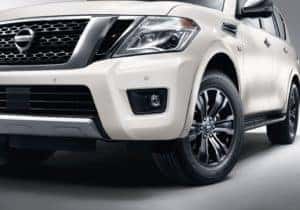 14/19 CITY/HWY EPA-Estimated MPG
7.8 Sec.0-60 MPH
4 Doors 8 Seats
16.5-171.1 cu ft Cargo Space
What's New For the 2019 Nissan Armada?
The 2019 Nissan Armada offers an impressive design that is unlike any other vehicle that you might have owned in the past. The beautiful leather interior is designed to withstand heavy use and the model can be totally customized to fit your needs well. The most important thing that comes with the 2019 Nissan Armada is its brand-new safety features as well as new trims and specs. This is a ride that you will love being in because it offers lots of seating for the entire family
2019 Nissan Armada Interior

The 2019 Nissan Armada can comfortably seat five people including the driver. The large trunk space makes it a wonderful option for families with busy and hectic lifestyles. You will also find that the interior comes in a gorgeous leather that can be customized according to the specific model that you choose to purchase. The affordable price of the 2019 Nissan Armada makes it a wonderful choice for those who are on a budget but still want a reliable vehicle that they can count on.
Strong V8 Performance for 2019
2019 Nissan Armada Exterior Front The 2019 Nissan Armada has an incredible pickup when on the highway as well as on country roads. The vehicle gets an EPA estimated 19 MPG on highway driving and 14 MPG with city driving. Many people also make use of the 2019 Nissan Armada because of its incredibly towing capacity, that is up to 8,500 pounds. For this reason, the 2019 Nissan Armada is a wonderful vehicle for all sizes of families and those looking for a vehicle that they can rely on. For this reason, the powerful horsepower behind the 2019 Nissan Armada is one of the most impressive out there and can be a great choice for larger families and those wanting to tow heavy loads.

2019 Nissan Armada Safety Tech
2019 Nissan Armada Exterior Rear they're are a lot of safety features packed into the 2019 Nissan Armada. Not only is it equipped with both front and side airbags, but it has passed an impressive number of safety tests that have given it a wonderful benefit for those wanting to purchase the vehicle. There are so many different benefits that come from owning the 2019 Nissan Armada and all of the safety features that have been put into the vehicle make it a great choice for both small and large families alike.
Having a great car is important when you rely on it regularly. Whether you are planning to use the 2019 Nissan Armada as a commuting car every day or you are going to be using it to drive the family around, it is important that you look into utilizing this for your own needs and consider having a test drive to see if the 2019 Nissan Armada is the right choice for you. With the gorgeous exterior design as well as the cozy interior, it is no wonder that a lot of people have chosen the 2019 Nissan Armada for their family's needs.